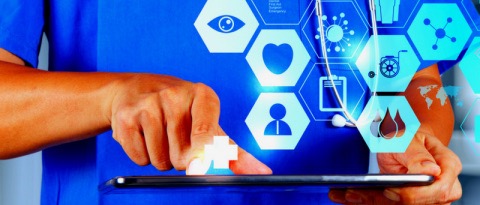 Digitizing trends in medical industry.
Categories / Categories / Health Care
The expanding interconnectedness to automation-technological advancement permits you to decrease the burden. Our entire lives are right now occurring under the protection of overwhelming digitalization in pretty much all circles of life. There are such countless levels to it, as well.
Probably the recent technological software development in fields like big data, 5G, IoT and AI are turning numerous businesses, including medical services, into diverse environments bringing together data collection, communications, product development, and manufacturing and distribution networks into transparent, more efficient, and fully digitized systems.
The development of 5G innovation will assist with making medical care quicker and more accessible and by the support of the advancements in Artificial Intelligence; it will help with making a wide range of medication more exact and easy. Lastly, having all of this interconnected through a variety of gadgets and upheld by the better strategies will take medication and medical services onto another level of efficiency.
So let's have a look at the huge variety of digital trends technology that will advance the Med Tech and health-care into a digital era:
Wearable devices
We all are pretty familiar with the use of rubber band on our wrists which monitor our health data and then store on our cell phones and in internet cloud space. Wearable devices help to measure our temperature, heart rate, blood pressure, levels of blood sugar and other vitals. It can help us to tell how many steps we walked.
Wearable devices also help doctor to have access to the patient health information without having them in same building. It allow more effective health monitoring and precise diagnosing.
3-Dimentional printing
Doctor and Surgeons can identify specific bones, organs, and blood vessels of their easily and faster now, this can help the doctor to do appropriate diagnosis of patient and boost the process speed as well as reduce the waste which in turn make process cost effective.
Virtual reality in field of medical
With the assistance of virtual reality medical care experts can go through virtual training that imitates complex real-life situation .Which can provide efficient training to medical student and practitioner. virtual reality also been known to help patients with mental illness and even visual imparities. Through virtual reality lot of experience can be gained without risk of someone life.
Cloud based health and data sharing
Record keeping is always a tedious work for healthcare and every field The more comprehensive the record,, the more extra room it needs, so prior to digitizing record keeping, clinical experts could never perform and keep all the observing a patient could require.
Things have changed in any case patients and medical services providers turning to cloud computing for their medical data storage, and the research shows that both are likely to get better access to records through cloud-based solutions.
Big data in field of healthcare
Big data gathers information about a business through organizations like social media, internet business, online transaction, e-commerce and monetary exchanges, and distinguishes patterns for later use. Big data can provide lot of benefits like lower rate of medication risk, prevention care etc.
Artificial intelligence (AI)
Artificial intelligence (AI) is more than just a digital transformation trend in healthcare. Chatbots and virtual wellbeing partners are another AI-based innovation that patients are getting comfortable with. Chatbots can fill a huge number of roles from client support delegates to demonstrative instruments and even specialists.
The genuine force of AI can be best seen in regions like precision medicine, medical imaging, drug discovery, For instance, cancer patients used to receive cookie-cutter treatments with high failure rates. Now, thanks to AI's sophisticated pattern recognition.
Healthcare digitalization trends will spill over in the future as the industry will innovate and adapt to meet the patient's demand. As a result organisation that embrace healthcare digitalization will see dividends sooner.